Is Harry Styles Still Dating Olivia Wilde? Olivia Wilde is making her way into the entertainment industry as a director, bringing important issues like women's rights to the big screen. At the same time, Harry Styles, who rose to fame in One Direction, has become a symbol of the new masculinity.
Both artists surprised their fans with romance at the beginning of last year. Since then, they have kept the details of their relationship so private that neither of them shares practically anything on their social networks, making it the most secret relationship in Hollywood.
The actress, who celebrated her 38th birthday this month, directed Harry Styles in the movie "Don't Worry Darling," and it was on the set of that shoot that her love story began, despite the age difference that exists between the two, as Harry is ten years younger than Olivia Wilde.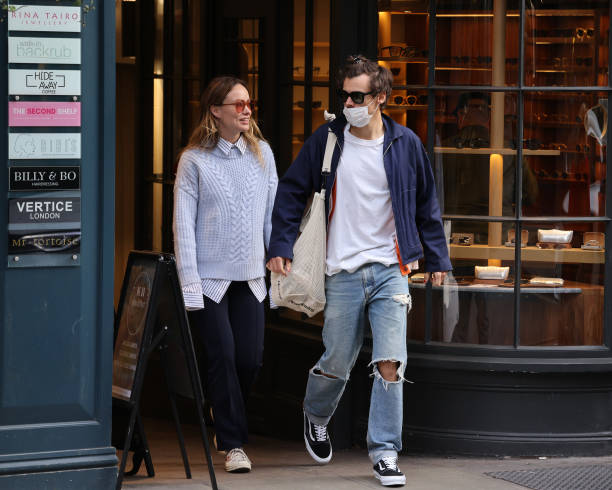 On and off the set, the celebrities spent a lot of time together, and their chemistry was undeniable. However, they managed to keep their relationship completely silent, even for the members of the work crew that surrounded them in the film.
Is Harry Styles Still Dating Olivia Wilde?
Harry Styles and Olivia Wilde have been together for almost a year and seem happier than ever. The director, 38, and the singer, 28, who met in September 2020 during the shooting of their film Don't Worry Darling, made their relationship public in January 2021 by attending a wedding together.
Months later, the actress told the magazine "Vogue" that she was pleased to hear that the singer would join the movie's cast because she knew he would like how the film looked and would help break toxic masculinity models as he had done before.
At the wedding of their agent, Jeffrey Azoff, in early 2021, Harry Styles and Olivia Wilde were photographed holding hands.
Around the same time, the media said that the couple "were affectionate with their friends, holding hands and looking very happy," which confirmed that they "have been dating for a few weeks."
Before it got out to the public, they were both able to keep their relationship a secret for a while.
Us Weekly got confirmation from a source that Styles and Wilde were dating after the singer called her "his girlfriend" during his wedding speech.
Between what she said and the photos that were going around on social media, it was clear that this couple had begun their love story.
They were also seen together when they returned to Harry Styles' house in Los Angeles. This made it clear that there was a new famous couple in Hollywood.
Olivia uploaded a photo of Harry lying in a car and congratulated him for supporting a female-led project without confirming their relationship.
Harry Styles And Olivia Wilde Keep Their Relationship Private
Harry and Olivia both desire to keep their romance private from the public eye. Midway through 2021, it was reported that the couple was highly committed and overjoyed to be together.
They were inseparable when filming their movie together, but even though production ended many years ago, they have remained a couple to this day.
As the couple's first anniversary approached, Wilde pushed their relationship to the next level by introducing Styles to their two children, Otis, seven, and Daisy, five, whom she shares with her ex-husband, Jason Sudeikis.
People magazine reports that Harry is gradually getting to know his children. Additionally, Olivia spends time with Harry's mother.
Despite their busy schedules, the pair has an excellent relationship.
Without a doubt, their love story is not yet complete, and fans must be patient in learning more about their romance and the extent of their relationship.
FAQ
What Was Harry Styles's Longest Relationship?
The relationship between Camille Rowe Styles and the French model appeared to be his longest to date in 2017 and 2018. But now it seems that with Olivia Wilde, it will be the longest relationship of Harry Style.
Who Is Harry Styles Married Too?
Olivia Wilde, an actress and director has been dating Styles since January 2021.
Who Was Harry's, First Love?
It's Abigail Crawshaw. Harry's first girlfriend's name was revealed thanks to One Direction fans. In 2007, he and Abigail might have been a couple. After all those years apart, they finally met again in 2015 during a 1D concert.
How Old Is Olivia Wilde?
Olivia Wilde is 38 years old, born on 10 March 1984.
Harry Styles And Olivia Wilde Age?
Harry's Style age is 28 years old, and Olivia Wilde's age is 38 years; Olivia is ten years older than Harry.
The following two tabs change content below.
My name is Gourav Singh, and some of my favorite hobbies include watching movies and television series, playing sports, and listening to music. For my blog posts, I prefer to write about themes that are lighthearted and fun to read and write about. To keep things light and entertaining, I'll include funny observations on life or a summary of the most recent entertainment news. Check out my blog if you're in the mood for some light entertainment.